"Cannabidiol (CBD): the most misunderstood compound on earth."
What's the Purpose of the CBD Guide?
Hi, and welcome to the CBD Ultimate Guide.
The purpose of this guide is to empower CBD beginners to learn about CBD so they can make an informed decision about whether CBD is right for them.
What Beginners Need to Know about CBD
This article covers the what, why, how, when and who of CBD.
In this guide we'll be going through the following chapters:
Share This Guide with Other CBD Beginners
If you know anyone who's interested in CBD and desires more understanding, please share this guide with them.
Because this is a new industry there's a lot of confusion and false information out there, but our goal is to bring anyone up to speed concisely with accurate information.
We Value Your Feedback
If there's anything you want to add or subtract from this guide, please feel free to let us know in the comments below.
Thank you so much for your input.
We welcome constructive feedback, just no bickering, yelling (write in ALL CAPS to YELL), or rude remarks please.
Disclaimer
CBD is not for everyone, what works for one person or in one application may not work for you.
Any benefits or positive side effects anyone may have from CBD products are not guaranteed.
This article is not medical advice.
Intro to CBD
CBD is a broad topic. In this section we will cover a basic overview of what CBD is, why people take it, and what it is not.
What Is CBD?
We're going to look at CBD with two perspectives.
The first is from a technical perspective, and second is a "purpose" perspective.
It helps to see it from a scientific point of view to know what physical thing we're talking about.
Definitions
CBD
CBD is a chemical that is found in cannabis plants that is non-addictive, non mood-altering, not psychoactive, and legal in all 50 states.
THC
THC is what makes people feel "high" when they use marijuana because it is a psychoactive compound. Legally, CBD can contain a maximum of 0.3% THC.
More
There's a lot more terminology used in the CBD space such as hemp, full-spectrum, isolates, terpenes, etc. But for now we'll just focus on CBD and THC.
CBD vs THC
THC is what people are looking for when they want to get high by smoking or consuming marijuana.
It's different than CBD although they both come from the same plant, the cannabis plant.
And because both of these substances come from the same plant, and the government has been heavily regulating THC for decades, it has been a natural extension of the government to regulate CBD.
However, there's been great progress and hope for the use of CBD as an accepted medicine and approved product.
Although it has only been used medically in pediatric purposes to treat epilepsy, many are hopeful that CBD will continue to be accepted and used to continue to treat medical conditions as a replacement for medical marijuana or opioids.
Many people want the pain relief that comes from medical marijuana or opioids without the psychoactive effects or other side effects.
THC is known as Delta nine, which is found in trace amounts of CBD.
However, the amount of THC that is found in CBD is so small that it won't get you high.
CBD does not affect or limit alertness or concentration. Whereas THC does.
CBD is primarily used to treat pain, anxiety and inflammation.
Legalization
Only in 2018, CBD was removed from the DEA's list of schedule 1 drugs.
Historically, scientists have had to submit to a difficult process of administrative regulations to test and examine the capabilities of CBD to prove the truth of what it can or cannot do.
Basically, the fact that CBD has been a schedule one drug means that it has slowed down the process of the truth about CBD being verified through scientific testing.
In 2018, hemp was legalized for commercial purposes in the United States through the US Farm Bill.
What They're Made Of
Hemp is a subtype of the cannabis sativa family that contains 0.3% of THC or less.
Conversely marijuana is a subtype of the cannabis sativa family that contains greater than 0.3% of THC.
CBD comes from harvesting the hemp flower.
This flower then has the CBD extracted from it. This flower and CBD will not get you high because of the very low amounts of THC.
CBD that comes from the hemp plant is placed in CBD gummies, softgels, oils, rubs and other CBD products.
For some, CBD is an alternative to medical marijuana or opioids for pain, anxiety and inflammation.
Does CBD Have THC?
CBD is typically extracted from hemp, which means that it has low amounts of THC – below 0.3%.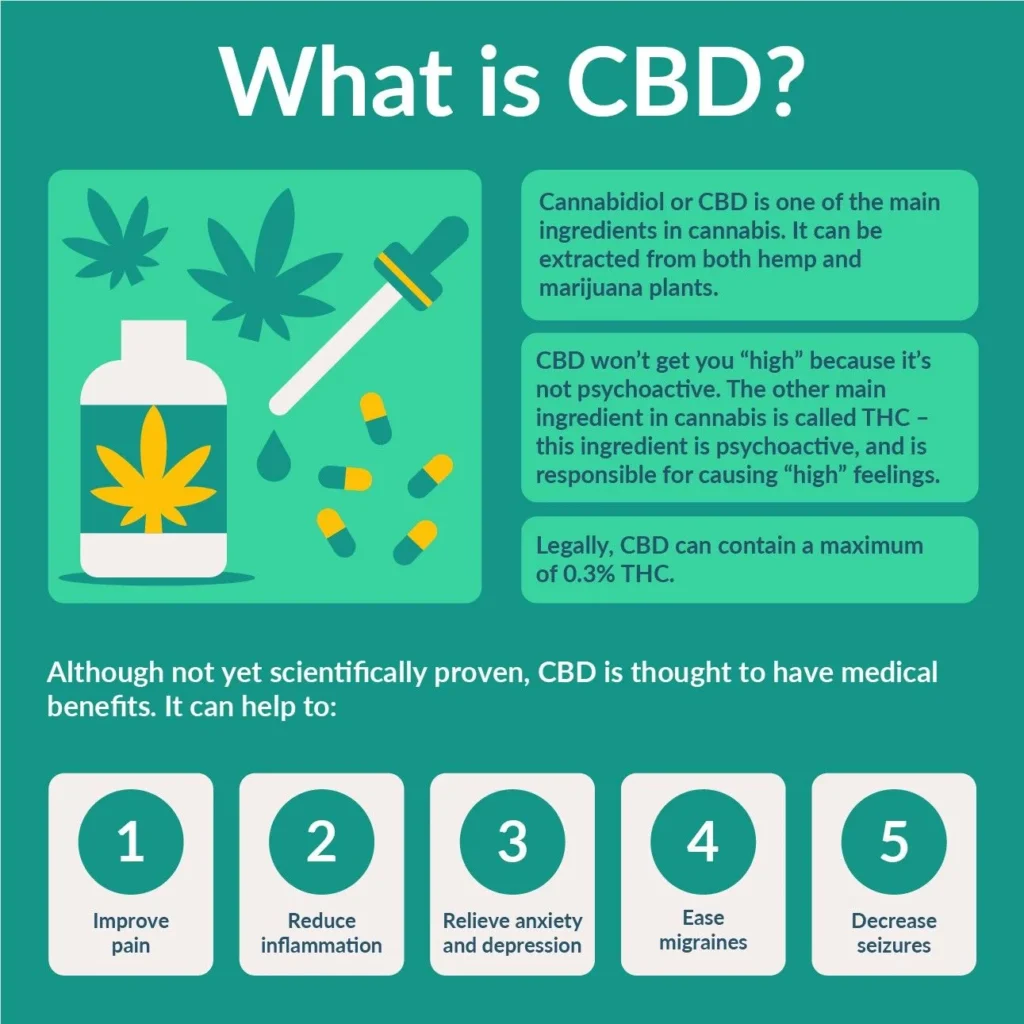 Why Do People Take CBD?
CBD is used as a replacement for opioids, pain relievers, medical marijuana, or other substances that may assist with relief, focus or sleeping.
Some customers have found that CBD has great pain relieving effects without the drawbacks of being "high" from medical marijuana.
Medical marijuana may cause a person to be stuck at home for hours because of the psychoactive effects and inhibitions on their motor skills, but CBD does not have the same effects.
They prefer CBD as a pain reliever and muscle relaxer, or to help with a variety of other health issues.
While CBD as a homeopathic medicine is not government approved to treat various conditions, many customers have had success and improvement through the use of CBD.
What most people want and use CBD for.
Many of our customers have a desire to solve a problem with their health, or at least mitigate it, and they haven't found the solution in traditional medicine.
So, they turn to CBD as a homeopathic approach.
Some people are skeptical and CBD definitely is not the answer for everybody, but some people have found breakthrough.
For example, areas like:
Pain relief
Stress reduction
Sleep support
Energy
mental focus
Calming or soothing
Anxiety relief
Hypertension relief
Muscle soreness relief
brain health support
memory support
Once again, this is not for everyone, and this is not medical advice.
What's The Difference Between CBD And Cannabis?
CBD is an extracted chemical from cannabis plants, whereas cannabis is the plant itself.
Terminology Of Cannabis And Marijuana
Cannabis plants are the same thing as marijuana plants.
The words are often used interchangeably.
What is Hemp?
Hemp is a strand of the cannabis plant that has less than 0.3% THC.
This means hemp does not make people "high" like marijuana does, which has a much greater percentage of THC.
As of 2018, Hemp has been approved by the US Government to be used for commercial purposes.
Because of this, the hemp industry is blossoming in the United States.
Hemp is used to make many things like: rope, textiles, concrete, building material, plastics, biofuel and more.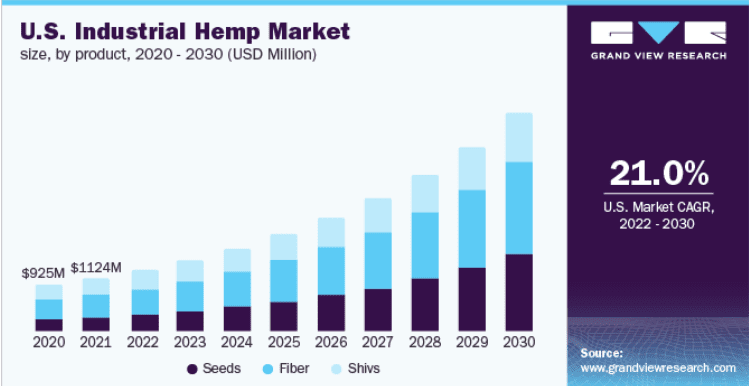 And CBD is primarily extracted from hemp plants, so we are seeing the CBD market rapidly grow along with the hemp market.
What is Cannabis?
Cannabis is a plant that has two varieties, marijuana and hemp.
Marijuana has high amounts of THC, whereas hemp has very low amounts of THC and high amounts of CBD.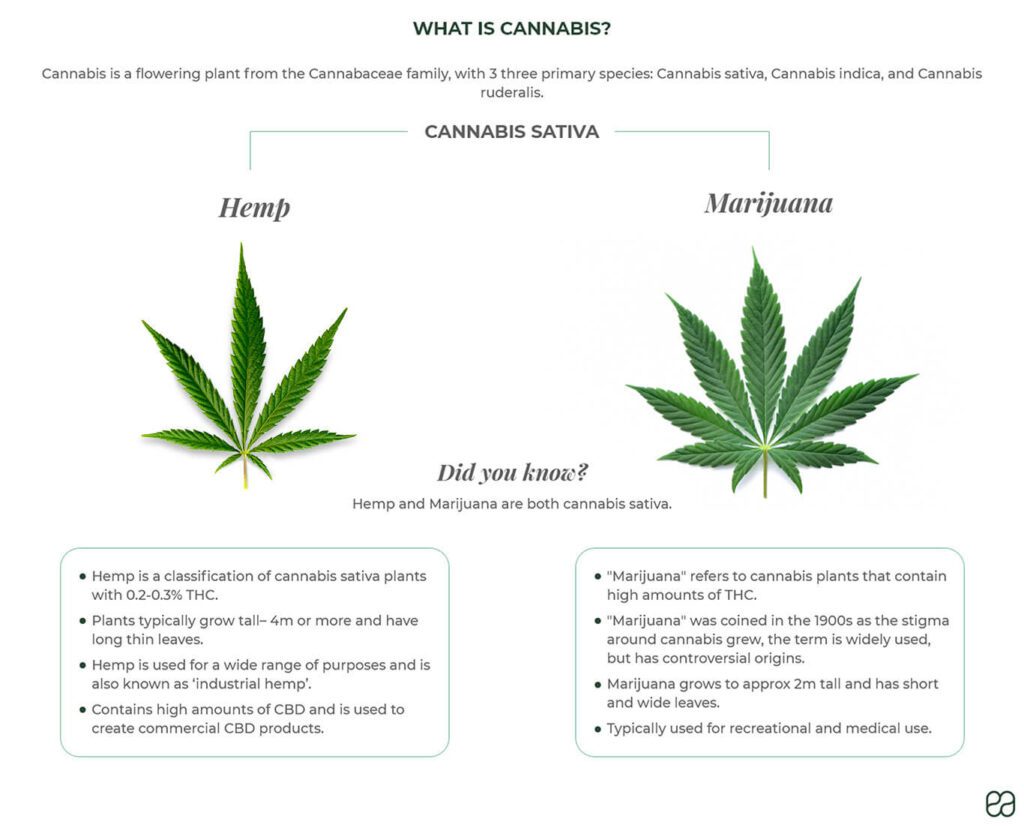 History of CBD in America
CBD was discovered in the 1940s.
But because of marijuana being so closely related to hemp and CBD, there has been government regulation over the years.
Since 2018 hemp and therefore CBD have been legalized across all 50 states.
There have been some successful scientific studies done with CBD where it helped mitigate childhood epilepsy.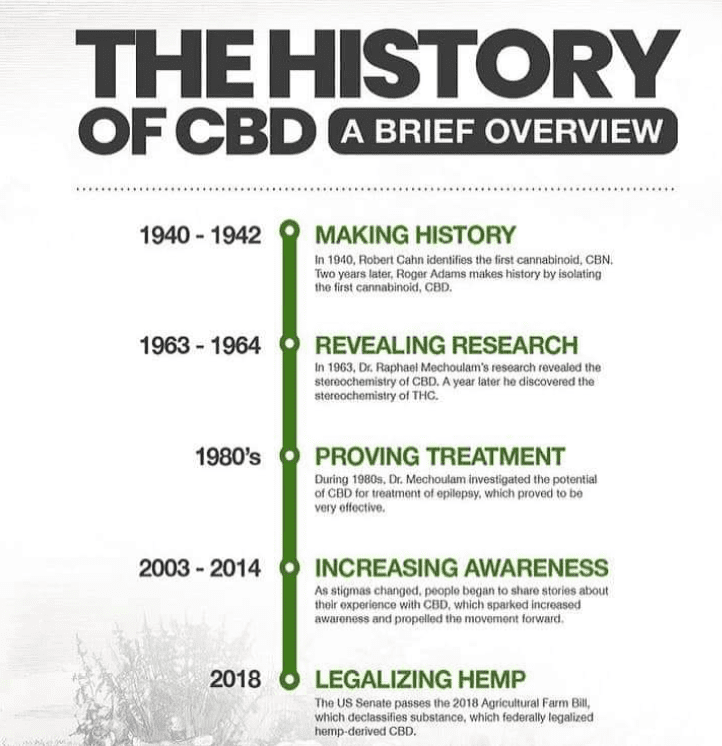 What's The Difference Between CBD And Marijuana?
CBD is a cannabidiol whereas marijuana is a plant. When people say marijuana, they may really mean THC, which is the psychoactive compound in marijuana that gets you "high".
In 2018 the U.S. Farm Bill was passed by the federal government of the USA.
This groundbreaking legislature says that hemp is no longer viewed as marijuana by U.S. regulators.
This distinction between marijuana and hemp is clear by the amount of THC found in each strand of the cannabis plant.
Marijuana has significantly higher amounts of THC, while there are only trace amounts of THC found in hemp.
Why CBD?
Why CBD?
Many of our customers have found CBD to be an alternative pathway for treatment for some medical conditions.
We cannot promise or guarantee any results, and CBD is not for everybody.
CBD serves the purpose of attaching to different receptors in the body, such as pain receptors, and letting them know to decrease or change their signals.
In the example of pain receptors CBD causes pain relief.
This body-wide system of receptors is called the endocannabinoid system.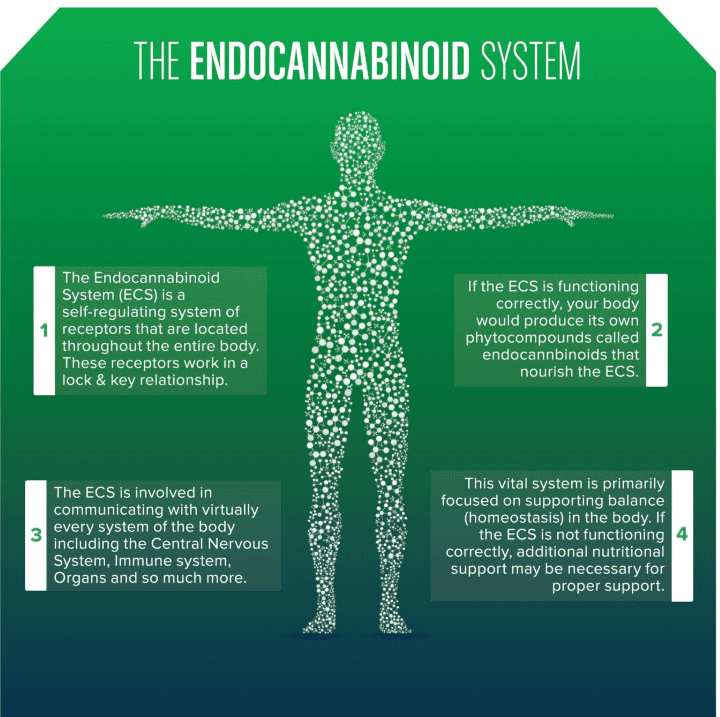 Effects Of CBD On The Body
CBD has numerous effects on the body.
Some of the primary effects are reducing pain, inflammation, stress, anxiety, and fear.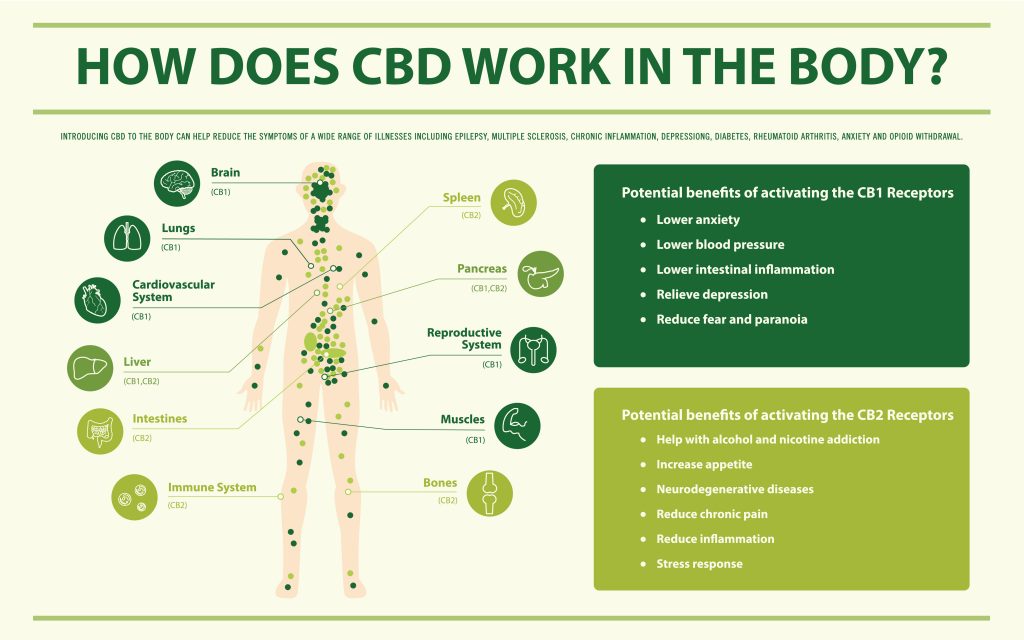 The Entourage Effect
The entourage effect is when the various cannabinoids found in cannabis all work together. These cannabinoids each emphasize and improve the effectiveness of the others.
So, taking a full-spectrum CBD product can significantly increase effectiveness or desired results.
Some of the cannabinoids are:
CBG
CBN
CBD
THC Delta-8
THC Delta-9
These plant-based cannabinoids are primarily only found in cannabis and hardly in any other plant.
The human body has its own endocannabinoid system that benefits from these cannabinoids in the regulation of bodily functions like sleeping, mood, and pain control.
As the cannabinoids from the cannabis plant all work together to help regulate the endocannabinoid system the total benefits and effectiveness of each cannabinoid greatly increase, and drawbacks or side-effects are diminished.
Common Uses For CBD
CBD is commonly used to treat anxiety, chronic pain, arthritis and insomnia. CBD does not have addictive or psychoactive effects.
Customer Testimonials
I have benefited from a couple of Bradford Wellness Company's products. Both the combo vitamin injections and the CBD products have been life changing for me. I do not like to take medications and especially ones that I could become dependent on. These products from Bradford Wellness are exactly what I was looking for, for multiple reasons. The staff is top notch and are so good with answering my questions and helping me decide which products are best for me, depending on my needs. I highly recommend Bradford Wellness Company!

Penny Green
All the Bradford staff is really nice and caring. I will keep purchasing the CBD and Delta 8. It helps with my shoulder pain and helps with my anxiety.

Mary Mason
CBD for Pain
Common pain issues that some people treat with CBD include:
Chronic pain
Arthritis
Neuropathic pain (Nerve damage pain)

Multiple sclerosis
Nerve injuries
Shingles
CBD for Stress
CBD has been used to help treat stress-related conditions, such as:
Anxiety and fear-based disorders

PTSD – Post traumatic stress disorder
OCD – Obsessive compulsive disorder
SAD – Social anxiety disorder

As stated in the National Library of Medicine: "Overall, existing preclinical evidence strongly supports the potential of CBD as a treatment for anxiety disorders."
CBD for Energy
Everyone responds differently to CBD, similar to how caffeine may not give some people a feeling of being "awake".
However, there have been medical tests suggesting that small amounts of CBD without THC can help stimulate alertness and energy because of its effects on the endocannabinoid system.
Some companies produce CBD products for energy that isolate the CBD compound, remove THC, and May even add caffeine to help boost the energy and focus effects of CBD.
CBD for Sleep
While there are few scientific studies regarding CBD aiding sleep, results are promising for improved quality of sleep and helping to fight insomnia and anxiety.
CBD has actually been shown to do better than THC in aiding sleep.
While everyone does not experience the same positive effects of CBD for sleep, it does appear that CBD does not negatively impact the body's regular sleep process, such as REM cycles and regular movement while sleeping.
This tends to encourage a refreshing night's sleep, unlike some sleep aids that may cause the person taking them to feel drowsy the next day because they're just "knocked out".
Some have used CBD to have higher quality sleep and longer sleep duration.
The nervous system
CBD helps the nervous system and the serotonin system.
This is because of the nature of the endocannabinoid system influencing so many other systems in the body to have calming effects.
With the current limited research it seems that CBD is having the most positive effects on those who struggle with anxiety, pain or disorders that inhibit their sleep.
Legality of CBD
Is CBD Legal?
Yes, legislation of CBD from a federal level has ruled in favor of CBD as an approved product for commercial purposes.
This legislature removed hemp from the definition of marijuana, and CBD that is offered today in so many consumer products is extracted from hemp, not marijuana.
There are now no restrictions on the sale, transport, or possession of CBD that comes from hemp-derived products.
CBD products can be sold across most state lines as long as the federal legal requirements are met.
For CBD to be legal, it has to have less than 0.3% THC and abide by state laws, not just federal or national laws.
Versions of CBD – Legal Or Not Legal
There are different sources of CBD, and state governments have unique rules for deciding what is legal and what's not.
What governments are primarily deciding is how much THC is allowed with CBD products, and what derivative of the cannabis plant is CBD being extracted from.
CBD is extracted from either hemp or marijuana, which are both derivatives of the cannabis plant.
Marijuana has a high amount of THC, while hemp has a low amount of THC.
The U.S. Farm Bill in 2018 legalized commercial hemp growing and sales at a national level, and hemp is legally having CBD extracted from it.
So, hemp-CBD is generally legal, while marijuana-CBD is sometimes legal.
There is also the question of synthetic CBD, which some states do not allow.
However, all of our products are made with 100% Organically-Grown Non-GMO Oregon Hemp, Premium-Grade, Pesticide-Free, No Metals and No Harsh Chemicals, Gluten-Free, Made in the USA, cGMP-certified & FDA registered manufacturer, ISO 9000 certified, In-house tested & 3rd-Party Tested, Industrial Hemp Registered, Farm Bill Compliant.
CBD Laws By State
While the federal government in the US Farm Bill has declared CBD to be legal, they've passed on the responsibility to govern legality to the states.
Therefore, CBD is not legal in all 50 states, and each state has their own Controlled Substances Act (CSA).
This means that although popular opinion may say CBD is legal across all 50 states, there is liability for both consumers and those selling CBD.
Consult our FAQ page to see if we sell to your state.
Is it available in my state?
State
Is Hemp-Derived CBD Under 0.3% THC Legal?
Conditions
Are All Bradford Wellness Co. (BWC) Products Legal?
Alabama
Legal
Legal
Alaska
Legal
Legal
Arizona
Legal
Legal
Arkansas
Legal
Legal
California
Legal
CBD edibles are not allowed 
All products legal except edibles
Colorado
Legal
Legal
Connecticut
Legal
Legal
Delaware
Legal
Legal
District of Columbia
Legal
Legal
Florida
Legal
Only CBD that comes from hemp is allowed
Legal
Georgia
Legal
Legal
Hawaii
Legal
Only CBD that comes from hemp is allowed
Legal
Idaho
Legal
No traceable THC allowed
Some products legal. Review Certificates of Analysis for each product to find those with no traceable THC.
Illinois
Legal
Legal
Indiana
Legal
Less than 0.3% THC required
Legal
Iowa
Legal
Legal
Kansas
Legal
No traceable THC content allowed
Some products legal. Review Certificates of Analysis for each product to find those with no traceable THC.
Kentucky
Legal
Only CBD that comes from hemp is allowed
Legal
Louisiana
Legal
Only CBD with less that 0.5mg of total THC per package is allowed
Legal
Maine
Legal
Legal
Maryland
Legal
Legal
Massachusetts
Legal
Legal
Michigan
Legal
Legal
Minnesota
Legal
Legal
Mississippi
Legal
Legal
Missouri
Legal
Legal
Montana
Legal
Legal
Nebraska
Legal
Only CBD that comes from hemp is allowed
Legal
Nevada
Legal
Legal
New Hampshire
Legal
Legal
New Jersey
Legal
Legal
New Mexico
Legal
Legal
New York
Legal
Legal
North Carolina
Legal
Legal
North Dakota
Legal
Legal
Ohio
Legal
Legal
Oklahoma
Legal
Legal
Oregon
Legal
Legal
Pennsylvania
Legal
Legal
Rhode Island
Legal
Legal
South Carolina
Legal
Legal
South Dakota
Legal
Legal
Tennessee
Legal
Legal
Texas
Legal
Legal
Utah
Legal
Legal
Vermont
Legal
Legal
Virginia
Legal
Legal
Washington
Legal
Legal
West Virginia
Legal
Legal
Wisconsin
Legal
Legal
Wyoming
Legal
Only CBD that comes from hemp is allowed
Legal
Summary
Legal in all states with conditions
All BWC products legal in 47 states
Some BWC products are illegal in 3 states
History Of CBD Legality
Cannabis has been used for thousands of years throughout the world for purposes like medicine, rope, clothing, paper, and other materials.
However, in the United States, the Marijuana Tax Act of 1937 made all cannabis-based products illegal.
This legislation was because of competition between hemp and the forestry industry.
Hemp was a key competitor to big business, and had been used throughout America for hundreds of years.
While cannabis was illegal, CBD was discovered in the hemp plant in the 1940s, THC was discovered in the 1960s, and the endocannabinoid system was discovered in the 1980s.
Further studies revealed the medicinal effects and uses of cannabis.
Regulation and prohibition of cannabis related products has continued until recently.
The 2018 US Farm Bill made industrial hemp, and therefore CBD, legal at a national level.
Legality Of CBD And The Cannabis Industry
Marijuana and cannabis as a whole has been legalized by some states, and while marijuana and cannabis are different than CBD, cannabis and marijuana legalization on a state level does not interfere with CBD legalization.
If anything, the U.S. Farm Bill is groundbreaking legislation that many think will continue to influence the momentum towards complete legalization of cannabis and marijuana across the United States from a federal level.
In short, hemp is legal in all states, while marijuana is legal in some states.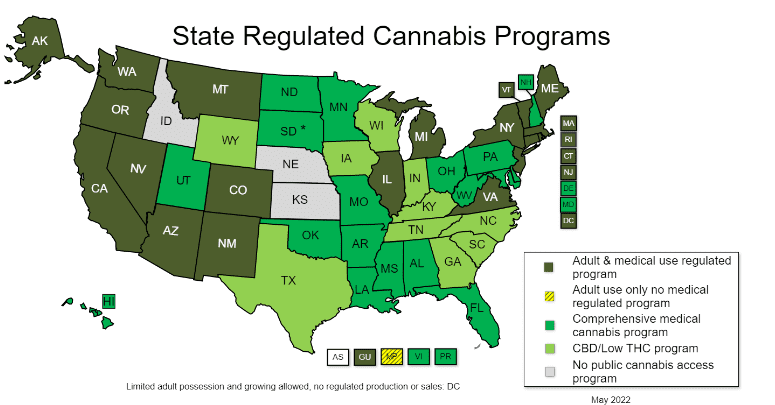 Future of CBD Legality
While CBD is essentially legal across the United States, some are hoping for greater availability of CBD through further deregulation.
For example, some are hoping to privately grow hemp without the requirement of a commercial license.
The Trend
Although we don't know what the future holds, there has been an overall trend of deregulation for cannabis in recent decades.
Since California legalized medical marijuana in 1996 many states have decreased regulation of cannabis as a whole.
Now marijuana can be legal used for medical as well as recreational purposes in many states.
CBD has also been a part of this trend with the 2018 US Farm Bill legalizing industrial hemp production, and therefore the CBD products that come from hemp.
Since It seems as though the trend is for deregulation and lifting the ban on areas of cannabis piece by piece, we have high hopes for overall cannabis legality in the future.
As cannabis deregulation may continue in the same overall trend, we expect CBD to continue to be legal and safe to use.
CBD Safety
CBD safety is a big concern for those who are new to this recently deregulated chemical compound.
This section will cover:
CBD Safety
CBD Effects
CBD with medications
Risks of taking CBD
What to look out for
CBD Variations
Is CBD Safe?
CBD is safe to use for most people and situations. Just like any substance that has effects on the body, there is a time and place to take it.
Some CBD products may cause sleepiness while others may increase energy.
It's up to each person to know their body and research what they're taking.
CBD is generally considered safe because it is simply attaching to cannabinoid receptors of the endocannabinoid system, and assisting with managing the regulation of bodily systems.
What does that mean?
The goal here is homeostasis, which is the tendency toward a relatively stable equilibrium between interdependent elements, especially as maintained by physiological processes.
While many people take CBD to assist with different ailments or issues, they have found that there are relatively few negative side effects.
Can You Get High From CBD?
No, you cannot get high from CBD. CBD contains low amounts of THC, and THC is what gets you high.
In order to get high from CBD, you would have to take impossibly large doses of it.
Can You Overdose From CBD?
No, because CBD does not affect your heart rhythm or slow down your breathing.
Even if you take 500mg, you're not going to experience any major adverse effects.
Can I Take CBD With Medications?
Yes, but we recommend consulting with your doctor first.
You may have unique side effects. Each person is different and CBD effects people differently.
How much CBD can I take a day?
The amount of CBD you can take a day will depend on your body and the desired effects.
It is recommended to start with a low dose of 25-50 mg per day and work up from there until you find an amount that works best for you.
Many people stay in the range of 50-100 mg daily, and higher doses can be taken for specific conditions as well.
CBD is generally safe in moderate doses, but it is best to check with your doctor if you are on any medications or have any medical conditions before starting a new CBD regimen.
Difference Between Safe CBD And Unsafe CBD
There are a few differences between safe and unsafe CBD. Here are some things to look out for:
Origin of hemp

Is the hemp locally produced in the United States or is it imported from foreign countries that lack transparency in the chemical makeup?

Organic Non-GMO vs. non-organic

Non-organically grown hemp may have other chemical compounds in it that will translate into the CBD when it is extracted. GMO's, pesticides, harsh chemicals and metals could all be translated into the extracted from the hemp along with the CBD.

Bottling

Bottling affects the quality and integrity of the CBD. And that's because the bottle affects how much light can enter the product. The more light that enters, the more degradation of the product occurs over time. So dark, glass bottles are best, while clear plastic bottles are not safe.

Who's selling it

Is a reputable CBD Dispensary offering you their products, or is CBD coming from a distributor that is not primarily focused on selling CBD? If the staff cannot offer product knowledge and certificates of analysis for the products, then they may be selling unsafe CBD.

Certificate of Analysis

When labs test products for their chemical makeup, they produce a certificate of analysis (CoA). This document proves the chemical components of a batch of products that has been tested. Certificates of analysis have to be updated with each batch of a CBD product. If a purveyor does not offer a CoA, then they may be offering unsafe CBD.
CBD Spectrums
Full-spectrum CBD

Full-spectrum CBD includes all of the other cannabinoids in the cannabis plant, including THC.

Broad Spectrum CBD

Much like full-spectrum CBD, Broad Spectrum CBD includes all of the other cannabinoids minus THC.

CBD Isolate

CBD isolate is the isolation of just the CBD cannabinoid.
Drug Tests and CBD
Most drug tests that test for cannabis use only test for THC, and in that case CBD will not cause you to get "positive" test results on a drug test.
That is because the trace amounts of THC included in legal CBD mean it does not register.
However, some drug tests do check for CBD, and in that case all spectrums of CBD would return a positive result.
If you are concerned about failing a drug test, then not taking CBD all together or only taking CBD isolate or broad spectrum CBD may be the best choice.
Buying CBD
How Do I Buy CBD?
You can purchase CBD just like any regular product. You don't need a license or any sort of documentation to purchase CBD, and you do not need a medical marijuana license.
You can buy CBD multiple ways:
Smokeshop, vape store, CBD store
Brick and mortar CBD dispensary
Gas station
Online CBD dispensary
You can't buy:
over the counter CBD drugs
CBD that doesn't meet federal and state regulations

CBD that has more that 0.3% THC
CBD that does not come from industrial hemp
Who Sells CBD?
There are lots of shops that have popped up since 2018.
You can find local dispensaries and shops by googling "CBD dispensary near me".
You can also shop for CBD online. There are many great businesses out there.
You can also get CBD from more sketchy places like some gas stations.
What To Look For When Buying CBD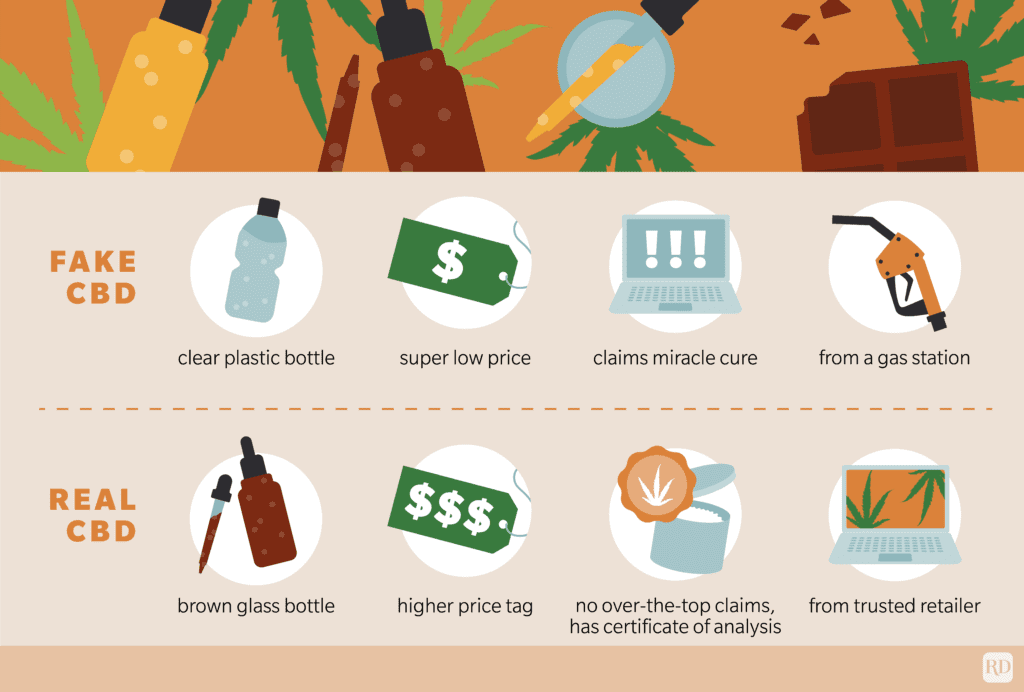 Buying CBD By State
You can buy CBD from every state in the USA as long as the CBD comes from industrial hemp and has less than 0.3% THC.
CBD Dispensary vs CBD Store
The terms "CBD dispensary" and "CBD store" are used interchangeably, but these generalizations may apply.
CBD dispensary:
More product knowledge
More expensive
High quality products
Better documentation–CoA's
CBD store
Better prices
Less product knowledge
Lower quality products
Not as good documentation
Buying CBD On Subscription
Many CBD distributors allow the option to purchase CBD on a subscription basis. For some buyers this might make sense if they:
Want to regularly use CBD
Want to save time making regular, predictable orders
Always want to have a consistent supply of CBD
Want the discount that may come with a subscription
However, a lot of CBD buyers are first time customers, because this is a new industry in the US. A lot of people just want to try it once, and not be locked into a subscription.
CBD Samples
Many CBD dispensaries offer CBD samples. This is a great way for first time users of CBD to try before they buy.
Some dispensaries may gift samples of new products to subscribers or regular customers.
This can be a great way to find new and exciting products that may be a good fit.
Even if samples aren't listed on a CBD business' website or in the store, it's somewhat common for businesses to give away free samples.
Returns
Return policies for CBD products may vary significantly per each CBD store.
Some may offer 100% refunds while others may offer no refunds.
Types Of CBD Products
There are lots of different types of CBD products for people and pets. New products are being created regularly as this is a growing industry.
How To Take CBD
Because CBD effects the body by interacting with the endocannabinoid system, CBD can be taken through various methods. CBD can go into the body through ingestibles, oils, vapes, topical skin creams or rubs and more.
Some CBD products will have instructions on them, if they don't then talking with a CBD expert may be helpful.
The Different Types of CBD Products Explained
CBD Oil
CBD oil is oil extracted from the hemp plant. This oil has a high concentration of CBD, which is the main component that is extracted from the plant.
CBD Vape
CBD vape is ingesting CBD through vapor. This is done with a vaporizer, which heats up the CBD oil and releases it in a form of vapor.
This method is popular because it works quickly and the effects are felt almost immediately.
However, it's not the healthiest option for you.
CBD Gummies
For those who are looking for a great flavor from their CBD, they may want to try CBD gummies.
We have full-spectrum CBD Gummies as well as Delta-8 Gummies.
CBD Softgels
CBD softgels may be flavorless and a quick and easy way to take CBD along with a daily vitamin or other supplements.
CBD Rubs
CBD rubs are topical applications that may include beauty products, pain relievers, or other applications.
CBD Dog Treats
CBD products for pets have become more common and can be purchased at most pet stores. These typically help pets with anxiety.
CBD Snacks
There are snacks and recipes that act as a vehicle for CBD oil or CBD isolate. These may include chocolates, cookies, trail mix, and other snacks or recipes.
Heat can cause CBD to lose some of its effectiveness, therefore some prefer no-bake recipes.
CBD Bath Bombs
CBD bath bombs are another fun way to enjoy CBD. We offer bath bombs that you just drop in the bathtub. Your body then receives CBD through the skin. We offer Relaxation Bath Bombs and Stress-Reducing Bath Bombs.
CBD As An Industry
CBD is a growing industry with lots of potential because it is a new legal alternative to marijuana and homeopathic medicine.
CBD News
Because of loopholes in the US Farm Bill in 2018, all cannabinoids found in hemp are legal.
CBD is one of them, as well as CBG and CBN, however there is a cannabinoid named CBD-P that was discovered after the US Farm Bill was finalized.
THC-P has psychoactive properties, which some view as a "marijuana substitute."
Delta-8 and Delta-9 have psychoactive effects too.
All of these hemp-derived compounds are legal alternatives to marijuana.
US Courts found Delta-8 THC to be legal.
CBD Markets
CBD and Hemp in the marketplace.
CBD and hemp have become the darling of the marketplace.
With legalization in 2018, CBD and hemp have been able to take hold of a large portion of the supplement industry.
New products are being released every year, with new applications such as beauty products, pet treats, cooking oils, etc.
How People View CBD
CBD is becoming more accepted in the US. People are starting to become more open to using CBD.
A lot of people view CBD as a natural alternative to conventional medicine.
It's also seen as a way for people to manage their symptoms without having to rely on prescription pills or harder drugs that can have adverse effects on one's body.
It's also a healthier option to smoking because of it's non-addictive nature.
The Future Of CBD
The future of CBD looks bright. As more research is being done, the potential applications and benefits of CBD are becoming more apparent and accepted by the mainstream.
CBD could become a valuable resource in the medical field because it has few side effects compared to other medications.
It could also be used in food products as an added health supplement, like omega-3.
CBD could continue to gain in popularity as it becomes more accessible and accepted by the public.
CBD Businesses
Because of the commercial availability of hemp in the United States and that CBD is extracted from hemp plants, we have seen a dramatic change in the American economy because of CBD businesses.
These have really been growing since the 2018 farm bill when hemp was legalized as a commercial product.
Now we have seen many offerings for CBD products some of them much cheaper and some of them scientifically chemically high-quality.
Other CBD Products
Some interesting products include CBD clothing, CBD beds, CBD toothpaste.
CBD cosmetics are also becoming popular with many people using it to treat skin conditions and wrinkles.
The possibilities for CBD products seem almost endless, as scientists continue to research this compound and discover new ways to use it each day.
Some even believe that CBD could be used in food production or even energy production in the future.
Other CBD Resources
Project CBD is a non-profit organization that has great resources on CBD. https://www.projectcbd.org/about/what-cbd
The FDA's current position about CBD, and what questions they are looking for answers to.
https://www.fda.gov/consumers/consumer-updates/what-you-need-know-and-what-were-working-find-out-about-products-containing-cannabis-or-cannabis